U.S. will meet Paris accord commitments despite Trump's withdrawal
Renewable energy will be the cheapest form of power almost everywhere by 2020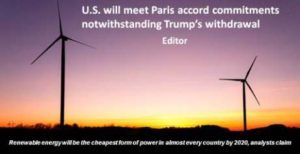 An article published in The Independent by Harriet Agerholm [1] draws attention to a report by analysts at the investment company Stanley Morgan, which says that prices for clean energy are expect- ed to soon fall below prices for more polluting energy sources. This also means that even though president Donald Trump has pulled out of the Paris climate change accord, the U.S. will meet its commitments in the agreement.
The report says specifically that, with the exception of a few Southeast Asian countries, renewable energy sources will provide the cheapest form of new power generation in almost every country by 2020. According to the report: " By our forecasts, in most cases favourable renewables economics rather than government policy will be the primary driver of changes to utilities' carbon emissions levels.
" For example, notwithstanding that President Trump has withdrawn the U.S. from the Paris climate accord, we expect the U.S. to exceed the Paris commitment of a 26-28 per cent reduction in its 2005-level carbon emissions by 2020."
In this regard, it is significant that "the price of solar panels fell by 50 per cent between 2016 and 2017", the authors of the report said. They added that wind turbines, too, had become significantly more efficient, as scientists have developed longer wind blades.
1. The Independent, 17 July 2017 http://www.independent.co.uk/environment/renewable-energy-cheapest-power-form-country-2020-paris-agreement-climate-change-us-donald-trump-a7844671.html
Know someone interested? Please share