The world's largest vanadium redox flow battery – Editor
In a recent article by James Burgess [1], it was revealed that vanadium has become a strategic raw material in electric energy technology. Also that China is currently building the world's largest vanadium flow battery (VFB) gigafactory at the city of Dalian, with the massively powerful (200MW/800MWh) batteries to be manufactured by Dalian Rongke Power Company. It covers an area bigger than 20 soccer fields. And thanks to the Chinese, vanadium was the best performing battery metal last year.
An earlier article by James Conca [2] stated that vanadium flow batteries can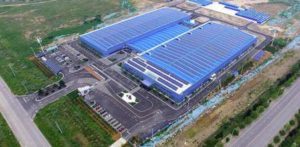 China has the world's largest reserves of vanadium (followed by Russia, South Africa and Australia*) and produced 42,000 MT of the metal in 2016. China also consumes the most vanadium and has the fastest growing rate of the metal's consumption. An earlier article by James Conca [2] stated that vanadium flow batteries can offer almost unlimited energy capacity simply by using larger electrolyte storage tanks. It can be left completely discharged for long periods with no ill effects, making maintenance simpler than other batteries. Because of these unique properties, the new V-flow batteries reduce the cost of storage to about 5c/kWh.
The batteries are rather large and best suited to industrial and utility scale applications. They could never fit in an electric car, so the Tesla battery is safe for now. But the VFB outcompetes Li- ion battery, and any other solid battery, for utility-scale applications. They're safer, more scalable, longer-lasting and cheaper (less than half the cost / kWh).
* The estimated world reserves of vanadium are, in order of magnitude [3]: China – 9 mill MT, Russia – 5 mill MT, South Africa – 3.5 mill MT, Australia – 1.8 mill MT.
Global Research, 12 Oct., 2018
https://www.globalresearch.ca/the-electric-revolution-move-aside-lithium-vanadium-is-he-new-super-metal-for-bigger-batteries/5656719
Forbes, 13 Dec., 2016

https://www.forbes.com/sites/jamesconca/2016/12/13/vanadium-flow-batteries-the-energy-storage-breakthrough-weve-needed/#2ddadc455bde

Investing News, 11 May, 2017
https://investingnews.com/daily/resource-investing/battery-metals-investing/vanadium-investing/vanadium-reserves/
Know someone interested? Please share