Has the U.S. economy recovered from the global financial crisis?
Editor
The following graphs, recently posted on the ERA Facebook site, reveal an important truth about the operation of the U.S. economy.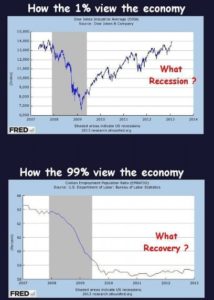 The top graph is the Dow-Jones industrial average, and the bottom graph is the civilian employment to population ratio. The shaded area (2008-2009) indicates major recession.
Know someone interested? Please share