ERA's new patron, Prof Stephanie Kelton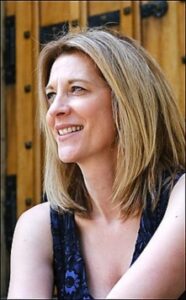 State University of New York at Stony Brook, where she is based. She was formerly a professor at the University of Missouri, Kansas City, and served as an advisor to the Bernie Sanders' 2016 presidential campaign
Stephanie was also the founder and editor-in-chief of the blog New Economic Perspectives. She was named one of Politico's 50 "thinkers, doers, and visionaries transforming American politics in 2016". Fast Company later placed her on its list of Most Creative People in Business. In 2019 she joined the board of Matriarch PAC.
Economic Reform Australia is indeed very fortunate to have Stephanie as one of its patrons. She is familiar with the work of a number of heterodox economists working in Australia, and was a key speaker at the Sustainable Prosperity conference held at the University of Adelaide during her two-
Professor Stephanie Kelton, at the University of Adelaide, Jan 2020 (credit John Staines)
Stephanie Kelton is a heterodox economist and is one of the world's leading proponents of MMT (Modern Monetary Theory). She is a Senior Fellow at the Schwartz Center for Economic Policy Analysis at the New School for Social Research and is a professor at the
week stay in Australia during January 2020, in addition to delivering the 2020 Harcourt Lecture as a visiting professor of economics, organised by the Adelaide University School of Economics and Public Policy. She was interviewed at this time by almost all leading news media, including television.
Know someone interested? Please share