China's Belt and Road initiative
Editor
The following information about China's Belt and Road initiative was extracted from articles by Peter Cai [1,2]:
China's Belt and Road Initiative – also known as One Belt One Road (OBOR) – is one of President Xi's most ambitious foreign and economic policies. It aims to strengthen China's economic leader- ship through a vast program of infra- structure building throughout China's neighbouring regions. Many foreign policy analysts view this initiative largely through a geopolitical lens, seeing it as China's attempt to gain political lever- age over its neighbours. This is undoubtedly part of Beijing's strategic calculation. However, this analysis argues that some of the key drivers behind OBOR are largely motivated by China's pressing economic concerns.
One of the overriding objectives of OBOR is to address China's deepening regional disparity as the country's economy modernises. Beijing hopes its transnational infrastructure building program will spur growth in China's underdeveloped hinterland and rustbelt. The initiative will have a heavy domestic focus. The Chinese Government also wants to use OBOR as a platform to address the country's chronic excess capacity. It is more about migrating surplus factories than dumping excess products. One of the least understood aspects of OBOR is Beijing's desire to use this initiative to export China's technological and engineering standards. Chinese policymakers see it as crucial to upgrading the country's industry."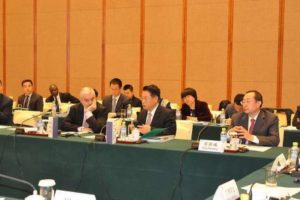 ".. OBOR is arguably one of the largest development plans in modern history. On land, Beijing aims to connect the country's underdeveloped hinterland to Europe through Central Asia. This route has been dubbed the Silk Road Econ- omic Belt. The second leg of Xi's plan is to build a 21st Century Maritime Silk Road connecting the fast-growing South-east Asian region to China's southern provinces through ports and railways.
"All levels of the Chinese Government, from the national economic planning agency to provincial universities, are scrambling to get involved in OBOR. Nearly every province in China has developed its own OBOR plan to complement the national blueprint. State-owned policy and commercial banks have announced generous funding plans to fulfil President Xi's ambitious vision.
"Xi has launched OBOR at a time when Chinese foreign policy has become more assertive. This has meant that OBOR is often interpreted as a geopolitical plan rather than a purely economic one. While there is a great deal of truth to this interpretation, this analysis argues that focusing on the geopolitical dimensions of OBOR obscures its principally geoeconomic drivers, in particular its connection to changes in China's domestic industrial policy.
".. there are many more concrete and economic objectives behind OBOR that should not be obscured by a focus on strategy. The most achievable of OBOR's goals will be its contribution to upgrading China's manufacturing capabilities. Given Beijing's ability to finance projects and its leverage over recipients of these loans, Chinese- made high-end industrial goods such as high-speed rail, power generation equipment, and telecommunications equipment are likely to be used widely in OBOR countries. More questionable, however, is whether China's neighbours will be willing to absorb its excess industrial capacity. The lack of political trust between China and some OBOR countries, as well as instability and security threats in others, are considerable obstacles.
"Chinese bankers will likely play a key role in determining the success of OBOR. Though they have expressed their public support for President Xi's grand vision, some have urged caution both publicly and in private. Their appetite to fund projects and ability to handle the complex investment environment beyond China's border will shape the speed and the scale of OBOR. There is a general recognition that this initiative will be a decade-long under- taking and many are treading carefully."
Sources:
Peter Cai is a Nonresident Fellow at the Lowy Institute for International Policy.
Previously he was a journalist with The Australian, Business Spectator, The Age and Sydney Morning Herald, covering business and economic news. Prior to becoming a journalist, Peter was at the Australian Treasury where he worked in the Foreign Investment Review Board Secretariat, focusing largely on state-owned enterprises and sovereign wealth fund investment policy. Peter has degrees from Oxford University and Adelaide University.
Know someone interested? Please share