Capitalism's slow-burn energy collapse, and why the struggle for a new economic paradigm is about to get real
Editor
The following commentary is extracted from a longer article by Nafeez Ahmed [1]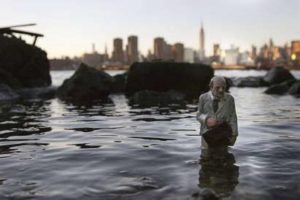 New scientific research is quietly rewriting the fundamentals of economics. The new economic science shows decisive- ly that the age of endlessly growing industrial capitalism, premised on abundant fossil fuel supplies, is over.
The long-decline of capitalism-as-we- know-it, the new science shows, began some decades ago, and is on track to accelerate well before the end of the 21st century.
With capitalism-as-we-know-it in inexorable decline, the urgent task ahead is to rewrite economics to fit the real-world: and, accordingly, to redesign concepts of value and prosperity, precisely to rebuild our societies with a view to adapting to this extraordinary age of transition.
A groundbreaking study appearing in Elsevier's Ecological Economics journal by two French economists, for the first time proves the world has passed a point-of-no-return in its capacity to extract fossil fuel energy: with massive implications for the long-term future of global economic growth.
The study, 'Long-Term Estimates of the Energy-Return-on-Investment (EROI) of Coal, Oil, and Gas Global Productions', homes in on the EROI concept – which measures the energy supplied by an energy resource, compared to the quantity of energy consumed to gather that resource. In simple terms, if a single barrel of oil is used to extract the energy equivalent of 50 barrels of oil, then that's an acceptable outcome. And the less energy one can extract using that single barrel, the less efficient and more expensive (in terms of energy and money) the process will be.
Recent studies suggest that the EROI of fossil fuels has steadily declined since the early 20th century, meaning that – as we're depleting higher quality resources – we're using more and more energy just to extract the new energy. This means that the costs of energy production are increasing while the quality of the energy being produced is declining.
But unlike previous studies, the authors of the latest paper  –  Victor Court and Florian Fizaine – have removed any remaining uncertainty about the matter.
Point of no return
Court and Fizaine find that the EROI values of global oil and gas production reached their maximum peaks in the 1930s and 40s. Global oil production hit peak EROI at 50:1; while global gas production hit peak EROI at 150:1.
Since then, the EROI values of oil and gas  –  the overall energy we're able to extract from these resources for every unit of energy we put in –  is inexorably declining.
Even coal, the only fossil fuel resource whose EROI has not yet maxed out, is forecast to undergo an EROI peak sometime between 2020 and 2045.
This means that while coal might still have significant production potential in some parts of the world, rising costs of production are making it increasingly uneconomical.
Axiom: Aggregating this data together reveals that the world's fossil fuels overall experienced their maximum cumulative EROI of approximately 44:1 in the early 1960s.
Since then, the total value of energy we're able to extract from the world's fossil fuel resource base has undergone a protracted, continuous and irreversible decline.
Insight: At this rate of decline, by 2100, we are projected to extract the same value of EROI from fossil fuels as we were in the 1800s.
Several other studies suggest that this ongoing decline in the overall value of the energy extracted from global fossil fuels has played a fundamental role in the slowdown of global economic growth in recent years.
In this sense, the 2008 financial crash did not represent a singular event, but rather one key event in an unfolding process.
The economy-energy nexus
This is because economic growth remains ultimately dependent on "growth in material and energy use" as a study in the journal PLOS One found last October. That study, lead authored by James D. Ward of the School of Natural and Built Environments, Univ of South Australia, challenged the idea that GDP growth can be "decoupled" from environmental impacts.
The "illusion of decoupling", Ward and his colleagues argued, has been main- tained through the following misleading techniques:
substituting one resource for another;
financialization of GDP, such as through increasing "monetary flows" through creation of new debt, without however increasing material or energy throughput (think quantitative easing);
exporting environmental impacts to other nations or regions, so that the realities of increasing material through- put can be suppressed from data calculations.
growing inequality of income and wealth, which allows GDP to grow for the benefit of a few, while the majority of workers see decreases in their real income — in other words, a wealthy minority monopolises the largest fraction of GDP growth, but does not increase their level of consumption with as much demand for energy and materials.
Ward and his co-authors sought to test these factors by creating a new economic model to see how well it stacks up against the data.
Insight: They found that the continued economic growth in GDP "cannot plausibly be decoupled from growth in material and energy use, demonstrating categorically that GDP growth cannot be sustained indefinitely."
Other recent scientific research has further fine-tuned this relationship between energy and prosperity.
1. Source: https://medium.com/insurge-intelligence/the-new-economic-science-of-capitalisms-slow-burn-energy-collapse-d07344fab6be
The full article with references is published by INSURGE INTELLIGENCE, a project in crowdfunded investigative journalism.
Dr Nafeez Ahmed is an award-winning investigative journalist. His latest book titled "Failing States, Collapsing Systems: Bio- Physical Triggers of Political Violence" (Springer, 2017) is a scientific study of how climate, energy, food and economic crises are driving state failures around the world.
Know someone interested? Please share