ASIC chairman talks about the risk of mortgage crash
Editor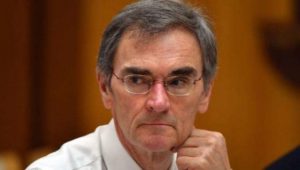 An article by Michael Roddan in the Australian on 7 April [1] reports that the corporate watchdog ASIC (Australian Securities & Investments Commission) has stepped up warnings on the outlook for the housing market, "raising the fear that the hot east coast property scene resembled the US ahead of the sub- prime mortgage crash".
The chairman of ASIC, Greg Medcraft, commented that observing the local – property rush was "like groundhog day". He urged regulators and banks to be vigilant about responsible lending standards, which he said had been overlooked amid surging prices in both the Sydney and Melbourne property markets. While addressing a forum in Sydney on 6 April, he said: " What happened in the subprime housing collapse in the U.S. was people were getting loans that they should never have been getting.
" The sad thing is, markets will adjust but people often never recover. The big concern I have is the human factor. What happens when interest rates go up and you discover you can't pay the mortgage?
" I've funded billons of mortgages around the world, I've looked very closely at residential market risks. It's not so much about the property price; my big concern is that people are realistic. Rising costs of living, fairly low wages growth – when you think about your future in borrowing, be realistic about the amount you have to pay back. "
Moody's credit rating agency has drawn attention to rising mortgage stress, with new data indicating that the proportion of Australian home loans more than a month in arrears rose to 1.52 per cent in November, up from 1.2 per cent in the previous corresponding period.
According to Moody's vice-president and senior analyst Alena Chen: " We expect mortgage delinquencies to continue to increase over 2017.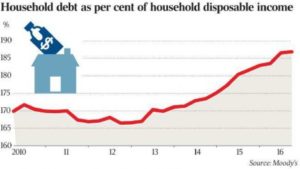 " Weaker conditions in states reliant on the mining industry, high underemployment and less favourable housing and income dynamics will drive delinquencies higher."
APRA demands more bank capital
APRA (the Australian Prudential Regulatory Authority) has indicated that it intends to impose tough new capital reserve rules on commercial banks in order to make them "unquestionably strong". It will be limiting the amount of higher-risk interest-only loans written by banks, which now account for about 40 per cent of lending in the market.
And ASIC is taking legal action against Westpac over alleged breaches of responsible lending practices, and in particular failing to adequately ensure that borrowers could pay down their mortgages.
Morgan Stanley analyst Richard Wiles recently said that: " the case for even more [bank] capital is justified by Australia's high systemic risk" and noted that CBA and Westpac faced the greatest challenge to meet the new APRA rules given their large investor loan books.
Source:
1. Michael Roddan, "ASIC boss Greg Medcraft warns of housing pain", The Australian, 7 April 2017
http://www.theaustralian.com.au/business/economics/asic-boss-greg-medcraft-warns-of-housing-pain/news-story/a0c8595c02a5751464066edd712e4fd5
Know someone interested? Please share